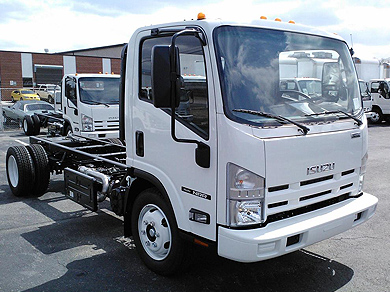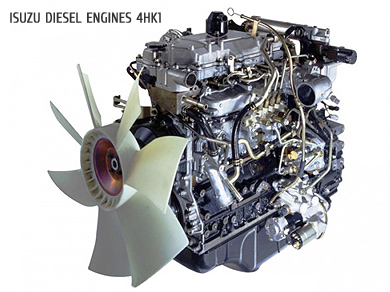 GVWR/GCWR

19,500/25,500 lbs.
Class
5
Body/Payload Allowance
12,294-12,838 lbs.
Allowance GAWR front
7,275 lbs.
Allowance GAWR rear
13,660 lbs.
Front Axle Capacity
7,275 lbs.
Rear Axle Capacity
14,550 lbs.
Ratio
5.571
Suspension
F/R Springs
Tapered/Multi-Leaf
Capacity
8,440/14,550 lbs.
Frame
Section Modulus
7.20 in.3
Resistance Bending Moment
316,800 lbs.-ft./in.
Service Brakes
System
Vacuum/Hydraulic with 4-Channel ABS
Front/Rear
Disc/Drum
Exhaust Brake
Standard
Transmission
Standard
Aisin A465 6-speed auto with double overdrive and lock-up 2nd-6th gears
Engine
Isuzu 4HK1-TC turbocharged intercooled diesel
Cab
Standard
Body Application
Up to 24 ft.
Displacement
5.2 L (317 in.3)
Engine Power
215 HP @ 2,500 rpm
Engine Torque
452 lbs./ft. @ 1,850 rpm
Oil Level Indicator
Dash-mounted oil level check switch and light
Limited Slip Differential
Optional
Alternator
110-amp
Batteries
2 Maintenance-Free, 750-CCA
Tires
225/70R19.5F (12-ply))
LRR (Low Rolling Resistance)
Standard
Steering / Steering Column
Integral Hydraulic Power / Tilt & Telescopic
Fuel Tank
30 Gal. in-rail / 33 Gal. 176 WB only
Fuel/Water Separator
Dual fuel filter with dash-mounted indicator light.
Standard on every NPR-HD, NQR and NRR is the Isuzu 4HK1-TC engine known worldwide for its power and ruggedness, and improved to deliver even more performance, economy and reliability.

Its high-pressure common-rail fuel injection system wrings the most energy out of every drop of fuel, and its intercooled, variable-geometry turbocharger provides excellent response over the engine's entire RPM range. Together, these features help the 4JJ1-TC produce 150 horsepower and 282 lbs.-ft. of torque.

The 4HK1-TC is now equipped with electronic high-pressure common-rail direct injection and a water-cooled EGR system to achieve unprecedented performance -- 210 horsepower for trucks equipped with the automatic transmission, and 190 horsepower for manual-transmission models.

At Isuzu, improvements in power never come at the expense of reliability, durability, or fuel economy. The 4HK1-TC engine can still run up to 10,000 miles between oil changes reducing maintenance costs and downtime and boasts an astonishing B10 durability rating of 310,000 miles. And despite the increased power and lower emissions, Isuzu N-Series trucks equipped with the 4HK1-TC engine will achieve approximately 8% better fuel economy than the models they replace.

NQR / NRR Diesel
Wheelbase (in.)
Cab to
Axle (in.)
Cab to End
of Frame (in.)
Back of
Cab (in.)
Overall
Length (in.)
Body
Length (in.)
Overall
Width (in.)
Front Axle
Width (in.)
Overall
Height (in.)
109.0
86.5
129.6
6.5
200.5
10-12
81.4
65.6
90.0/90.9
132.5
110.0
153.1
6.5
224.0
14
81.4
65.6
90.0/90.9
150.0
127.5
170.6
6.5
241.5
16-18
81.4
65.6
90.0/90.9
176.0
153.5
196.6
6.5
267.5
20
81.4
65.6
90.0/90.9
200.0
177.5
220.6
6.5
291.5
22
81.4
65.6
90.0/90.9
212.0
189.5
232.6
6.5
303.5
24
81.4
65.6
90.0/90.9
NQR / NRR crew cab Diesel
Wheelbase (in.)
Cab to
Axle (in.)
Cab to End
of Frame (in.)
Back of
Cab (in.)
Overall
Length (in.)
Body
Length (in.)
Overall
Width (in.)
Front Axle
Width (in.)
Overall
Height (in.)
150.0
88.5
131.6
5.0
241.5
12
81.4
65.6
90.8/91.1
176.0
114.5
157.6
5.0
267.5
16
81.4
65.6
90.8/91.1